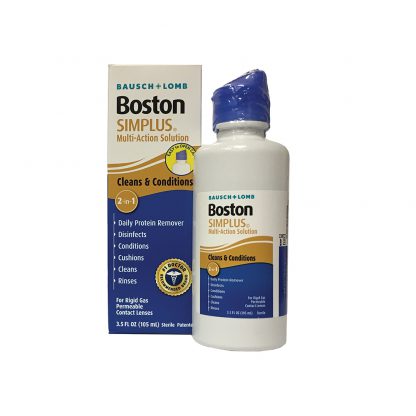 Boston Simplus Multi-Action Solution
$16.98
For cleaning, removing protein, rinsing, disinfecting, conditioning, storing and cushioning fluoro silicone acrylate and silicone acrylate gas permeable lenses. A one-bottle lens care system that not only cleans, disinfects and conditions gas permeable (gp) contact lenses, but also removes protein daily, with cleaning comparable to the leading two-bottle GP lens care system. A multi-polymer cushioning system provides comfort upon insertion by enveloping the lenses and creating a wettable surface for more comfortable lens wear.
Convenient 1-bottle cleaning and conditioning system with cleaning comparable to the leading 2-bottle system.
No evening rub care regimen for even greater patient compliance. Rub and rinse in the morning.
Recyclable bottle containing 3.5 fl. oz. (105 ml) solution.
Additional information
| | |
| --- | --- |
| Weight | .35 lbs |
| Dimensions | 2 × 2 × 5.625 in |