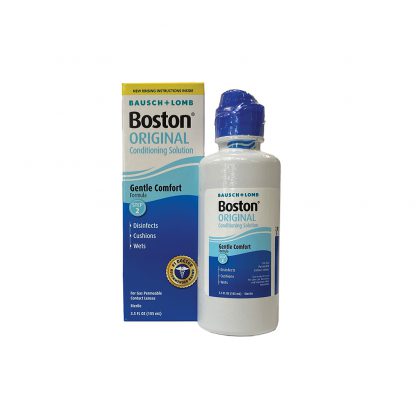 Boston Conditioning Solution
$20.34
Boston Conditioning Solution is for disinfecting and soaking after cleaning and rinsing of fluoro silicone acrylate, silicone acrylate rigid gas permeable (gp) and hard contact lenses. Boston Conditioning Solution disinfects, cushions and wets rigid gas permeable (gp) and hard contact lenses. This solution contains a wetting agent that coats the surface of the lenses to make them smooth, wet and comfortable. This ingredient helps reduce friction between the lens and the eye.
For rinsing, disinfecting, and soaking gas permeable and hard contact lenses. Makes GP and hard lenses comfortable by enhancing their wetting characteristics, reducing friction against the eye, and removing particles that can cause irritation and discomfort. Destroys harmful microorganisms on the surface of your lenses.
Do not use if you are allergic to any ingredient in this product.
Not for use with soft (hydrophilic) contact lenses.
Recyclable bottle containing 3.5 fl. oz. (105 ml) solution.
Additional information
| | |
| --- | --- |
| Weight | .3625 lbs |
| Dimensions | 1.875 × 1.875 × 5.5 in |